By Helping a Girl Testify at a Rape Trial, a Dog Ignites a Legal Debate
By WILLIAM GLABERSON
POUGHKEEPSIE, N.Y.
August 9, 2011
Rosie, the first judicially approved courtroom dog in New York, was in the witness box here nuzzling a 15-year-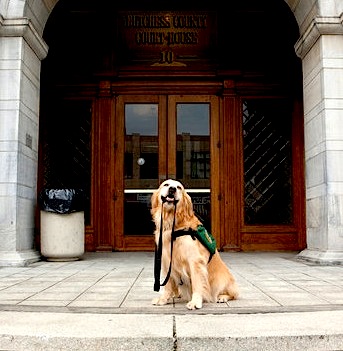 old girl who was testifying that her father had raped and impregnated her. Rosie sat by the teenager's feet. At particularly bad moments, she leaned in.

When the trial ended in June with the father's conviction,
the teenager "was most grateful to Rosie above all," said David A. Crenshaw (at right with Rosie and handler Sherri Cookinham), a psychologist who works with the teenager. "She just kept hugging Rosie," he continued. Now an appeal planned by the defense lawyers is placing Rosie at the heart of a legal debate that will test whether there will be more Rosies in courtrooms in New York and, possibly, other states.

Rosie is a golden retriever therapy dog who specializes in comforting people when they are under stress. Both prosecutors and defense lawyers have described her as adorable, though she has been known to slobber.

Prosecutors here noted that she is also in the vanguard of a growing trial trend: in Arizona, Hawaii, Idaho, Indiana and some other states in the last few years, courts have allowed such trained dogs to offer children and other vulnerable witnesses nuzzling solace in front of juries.

The new role for dogs as testimony enablers can, however, raise thorny legal questions. Defense lawyers argue that the dogs may unfairly sway jurors with their cuteness and the natural empathy they attract, whether a witness is telling the truth or not, and some prosecutors insist that the courtroom dogs can be a crucial comfort to those enduring the ordeal of testifying, especially children.

The new witness-stand role for dogs in several states began in 2003, when the prosecution won permission for a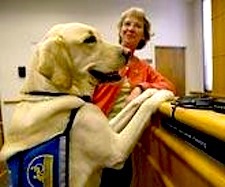 dog named Jeeter with a beige button nose to help in a sexual assault case in Seattle. "Sometimes the dog means the difference between a conviction and an acquittal," said Ellen O'Neill-Stephens (Left with Jeeter), a prosecutor there who has become a campaigner for the dog-in-court cause [founder of Court Dogs].

Service dogs have long been permitted in courts. But in a ruling in June that
allowed Rosie to accompany the teenage rape victim to the trial here, a Dutchess County Court judge, Stephen L. Greller, said the teenager was traumatized and the defendant, Victor Tohom (right), appeared threatening. Although he said there was no precedent in the state, Judge Greller ruled that Rosie was similar to the teddy bear that a New York appeals court said in 1994 could accompany a child witness. At least once when the teenager hesitated in Judge Greller's courtroom, the dog rose and seemed to push the girl gently with her nose. Mr. Tohom was convicted and sentenced to 25 years to life.

His lawyers, David S. Martin and Steven W. Levine of the public defender's office, have raised a series of objections that they say seems likely to land the case in New York's highest court. They argue that as a therapy dog, Rosie responds to people under stress by comforting them, whether the stress comes from confronting a guilty defendant or lying under oath. But they say jurors are likely to conclude that the dog is helping victims expose the truth. "Every time she stroked the dog," Mr. Martin said in an interview, "it sent an unconscious message to the jury that she was under stress because she was telling the truth."
"There was no way for me to cross-examine the dog," Mr. Martin added.
In written arguments, the defense lawyers claimed it was "prosecutorial misconduct" for the Dutchess County assistant district attorney handling the rape case, Kristine Hawlk, to arrange for Rosie to be taken into the courtroom. Cute as the dog was, the defense said, Rosie's presence "infected the trial with such unfairness" that it constituted a violation of their client's constitutional rights.

Ms. Hawlk declined to discuss Rosie. In written arguments, she said that all Rosie did was help a victim suffering from serious emotional distress, and she called the defense claims "frivolous accusations."

The defense lawyers acknowledged the risk of appearing antidog. Rosie, they wrote, "is a lovely creature and by all standards a 'good dog,' " and, they added, the defendant "wishes her only the best."

As the lawyers prepare their appeal, Rosie has been busy. She spent much of her time in recent weeks with two girls,
ages 5 and 11, who were getting ready to testify against the man accused of murder in the stabbing of their mother. The Dutchess prosecutor in that case, Matthew A. Weishaupt, argued that Rosie and dogs like her did not affect the substance of the testimony about horrifying crimes. "These dogs ease the stress and ease the trauma so a child can take the stand," Mr. Weishaupt said in an interview.

In the end, Rosie was not needed in the second case: the defendant, Gabriel Lopez-Perez, who had a history of domestic violence, interrupted his trial last week to plead guilty to killing the girls' mother, his girlfriend, in the Wappingers Falls rooming house where they lived. But Rosie's promised appearance next to the children might well have played a role. "It became obvious," said Mr. Lopez-Perez's lawyer, Andres Aranda, "that the children were going to be testifying, and he decided to avoid that."

The defense's appeal of Rosie's first courtroom outing, in the rape case, is likely to establish legal principles on the issues of dogs in the witness box. "It is an important case, and appeals courts will consider it an important case," James A. Cohen, a professor of criminal law at Fordham University School of Law, said.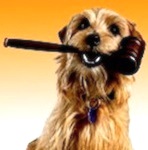 When New York appeals courts study the question, they are likely to look at the experience of courtroom dogs around the country, including in Washington. In Seattle, a developmentally disabled 57-year-old man, Douglas K. Lare, recently recalled how a Labrador retriever named Ellie, who has made more than 50 court appearances, helped him testify against a man charged with a scheme to steal from him.
Ellie gave him courage when he was afraid, Mr. Lare said in an interview: "It was like I had no other friends in the courthouse except Ellie," he said.

For 11-year-old Rosie, said her owners, Dale and Lu Picard (below, the courtroom work is a career change after years working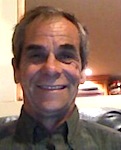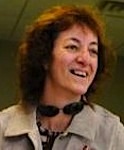 with emotionally troubled children at a residential center in Brewster. The Picards' organization, Educated Canines Assisting With Disabilities, or ECAD, places service dogs after training them to perform tasks like turning lights on and off and opening doors.

Rosie, named for the civil rights pioneer Rosa Parks, was originally taught to follow 80 commands, including taking off a person's socks without biting any toes. But she has a special talent with traumatized children, said Dr. Crenshaw, the psychologist who has worked with all three of Rosie's witnesses and many other troubled children. "When they start talking about difficult things," Dr. Crenshaw said, "Rosie picks up on that and goes over and nudges them. I've seen it with my own eyes."
| | |
| --- | --- |
| | |
Click √ on logos to access websites


A Neighborhood for Man and Dog
By JOYCE COHEN
July 30, 2011
Nearly three years ago, when Richard Rethemeyer moved to New York from San Francisco, he paid $1.16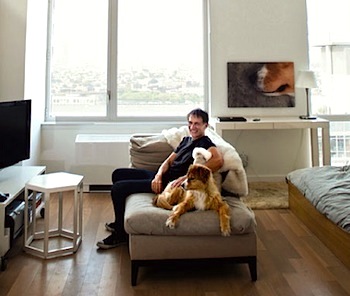 million for 1,400 lovely square feet in the ClockTower, at 1 Main Street in Dumbo, Brooklyn. The plan was for his girlfriend to join him there.

She was going to bring out her two dogs and we were going to live happily ever after in Dumbo," Mr. Rethemeyer said.
Instead, she told him that it was over. "The one person I wanted to be here with wasn't going to be part of it," he said. "I found myself on a much different New York adventure than I had booked."

Within months, he put the ClockTower place on the market. It took nearly a year before it sold, for $1.125 million, slightly below his purchase price.

Mr. Rethemeyer, a photographer (professionalphoto.com), rented an even larger place — 2,200 square feet — nearby on Washington Street. He paid the owner $3,900 a month.

With the job market sluggish, Mr. Rethemeyer, 52, then considered returning to San Francisco, but "giving it another year became kind of a mantra," he said.

He was, however, eager to move to a place that was less expensive and better suited to his needs. The room where he slept, for instance, was dark, and Mr. Rethemeyer had "discovered I don't like sleeping in a cave." Some kind of view was necessary "for my own sanity."

His new neighborhood, as well as the building, would have to be dog-friendly, for 14-year-old Topeka, an Australian shepherd mix. "I didn't realize how big a consideration Topeka is in my life, but she really is," Mr. Rethemeyer said. Topeka moves slowly in inclement weather. She prefers to be walked on grass, and it would be best if it was nearby. "When I have to get to work and she's poking along," getting her in and out "becomes a bit of an issue," Mr. Rethemeyer.

He began his hunt on his Dumbo street. A move to No. 25 Washington, the newly opened Gair2 building, where one-bedrooms start around $2,400, would be a cinch. But when Mr. Rethemeyer was told that dogs weren't allowed, he replied, "This is ridiculous, because the whole point of being in Dumbo is either to have kids or have dogs." Ongoing construction on the street was another argument against the building. (Gair2 had a change in policy and now allows dogs.)

Friends suggested he could rent in Manhattan for around the same price. Online, he found a new high-rise tower in Chelsea advertised by Baris Tuncer, who was then at the Level Group and is now at Keller Williams. That building didn't allow pets, but Mr. Tuncer showed him several similar buildings that did.

Glass-and-steel Mercedes House on 53rd Street near 11th Avenue was sleek and lovely. But the amenities wouldn't be completed for a year. There wasn't much of a neighborhood, either. Though DeWitt Clinton Park was nearby and had a dog run, it had little green space. (All of the building's studios are now rented; remaining one-bedrooms start around $4,000 a month.)

Mr. Rethemeyer moved on to the soaring tower called New York by Gehry, at 8 Spruce Street in Lower Manhattan. He had watched the building rise from his place across the river at the ClockTower. Starting prices for studios and one-bedrooms are $2,630 and $3,580, respectively. But the neighborhood had too much traffic for Topeka. "I began to compare and contrast things," taking into account price, size and neighborhood, he said.

MiMA, on West 42nd Street, included Dog City, a dog spa with a full array of services. But traffic was also a problem there. "Topeka takes her sweet time crossing the street," Mr. Rethemeyer said, "and I thought, she doesn't have it in her." He crossed Midtown off his list.

Charmed by the notion of moving from Main Street to Wall Street, he then checked out some places in the financial district, purposely visiting on a Sunday. "If it's going to feel desolate," he said, "I want to know that now."

The neighborhood felt more vacant than he liked, and he wondered where he would shop for food. Though traffic was not going to be a problem for Topeka, the neighborhood included too many concrete sidewalks and not enough grass.

A friend suggested that he consider some of the new buildings in Williamsburg. "I had a thing in my head where it is a lot of 20-somethings and I didn't think I would fit in there," Mr. Rethemeyer said. But he changed his mind once he visited. "There were some older people, and artists," he said. "I felt: I can come here and be happy and there's life going on."

By this point, he had just days to move. If no suitable place presented itself, he had more than half a mind to put his stuff in storage, rent a car and go on a long road trip with Topeka. Then he saw the Edge, a twin-towered building on the waterfront, and was instantly taken, both with the apartments and with the amenities — plenty of fitness equipment, spa facilities, game rooms, movie rooms, even a swimming pool.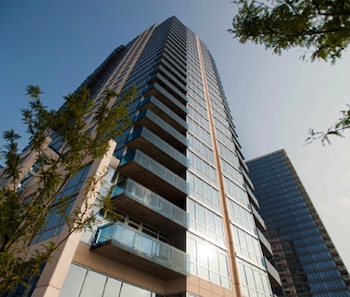 The Edge is a condominium, but an owner with nine units had just put them up for rent, said the agent, Rachel Altschuler of Prudential Douglas Elliman. All went quickly, including the 490-square-foot studio with a sweeping view of Manhattan that Mr. Rethemeyer took for $2,200 a month, plus $50 a month for the dog.

He arrived last month. His floor is largely vacant. "It is like the beginning of the semester and nobody had shown up yet," he said. (The Edge is now 65 percent sold, a spokeswoman said.)

There are a few new-building glitches — he had trouble, for instance, obtaining the stickers necessary for storing his two bicycles in the bike room. But Topeka, with plenty of grass nearby, is contented there and so is he. Only now does he realize how loud Dumbo was, with its ambient traffic noise. "Being away from that," he said, "it is nice not to hear that all the time."

Granted, his new apartment has far less space than its predecessors. "But," he said, "it has much more of what I enjoy."
What a bunch of highfalutin nonsense!
"the whole point of being in Dumbo is either to have kids or have dogs."
"Charmed by the notion of moving from Main Street to Wall Street"
"He crossed Midtown off his list."
?
FORGET THE BURROWS!

coming soon

THE DOGHOUSE ~ THE STORY
a love story
How we escaped
CO-OP HELL
15 EAST 10th STREET - MANHATTAN

...bought a house for our three Dogs on a wooded hill in the "upper elevations" of the Hudson Valley -- 60 miles from NYC and a thousand miles from nowhere, with mindful, respecful, caring neighbours -- and regained our sanity and our lives.
The DOGHOUSE
is THEIR house, where we serve at their wagging, barking pleasure.

"I cannot even hint what it was like, for it was a compound of all that is unclean, uncanny, unwelcome, abnormal and detestable. It was the ghoulish shade of decay, antiquity and desolation; the putrid, dripping eidolon of unwholesome revelation; the awful baring of that which the merciful earth should always hide."

~ H. P. LOVECRAFT
MADDY TARNOFSKY
New York Tenant Attorney • Pet Evictions
360 Central Park West
Suite 5E
New York, New York 10025
Phone: 212 • 972 • 1355
Click on √ logo below for website


Weird but true
Post Wire Services
August 3, 2011

Man's new best friend doesn't bark -- but it bytes.

British researchers have found that only 6 percent of those surveyed believe that "most people rely more on their dog than they do on their PC," while 67 percent think the opposite is true.

• • •
Dog owners Down Under are taking their best friends to the bakery.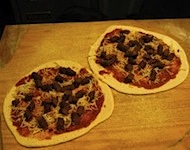 A new canine-only shop in Melbourne, Australia, sells treats such as "pupperoni" pizza and doggie doughnuts. The shop creates about 10 customized birthday cakes a week.

Owner Alicia Needham said she has catered one $660 birthday party for 15 pooches. It included a cake and special doggie delicacies, not to mention swag bags for the guests.


CINDY ADAMS
July 27, 2011



BRUCE Littlefield wrote "The Bedtime Book for Dogs." Barbara Corcoran told him: "Reading the book to my hound, Max, it was me who fell asleep."

July 28, 2011



ROCK Positano is NYC's four-star highly recommended A-1 foot doctor. Patients from Joe DiMaggio to to day's Yankees to Henry Kissinger, whose Black Lab developed a bad foot. Dr. Rock explained: "I treat humans, not hounds. Take her to the vet." Hardly one to take orders, our former Sec'y of State marched Amelia right into Positano's waiting room then into his surgery. While an office full of two-legged cases waited, Dr. Rock took care of Dr. Kissinger's adored Lab.
Only in New York, kids, only in New York!


For Dogs, Entrees From Same Butchers Who Feed Their Masters
By NOAH ROSENBERG
July 26, 2011
From the moment Mookie tasted his new dog food, he was a forever-changed Jack Russell terrier. He
devoured that first meal, his tongue lapping even the underside of the bowl, desperately searching for more. And then Mookie, who is 9, started barking — at the refrigerator.

"It was like an affirmation," said Mookie's owner, Liz Wiseman, whose other Jack Russell, Melanie, had a similar reaction to the new food. "They liked it and it was good for them; I knew we were on the right track."

Mookie and Melanie are beneficiaries of one of the latest trends for New Yorkers with pockets deep enough to ensure their dogs get only the best. To pet owners like Ms. Wiseman, who lives in the East Village, premium dog food is not good enough. Instead, they are opting for freshly made cuisine from high-end local butchers who already supply the choicest cuts for upscale restaurants.

These purveyors insist that their products, from grass-fed and locally raised animals, are not a gimmicky appeal to doting dog owners, but rather another way to promote sustainability of small-scale local farming.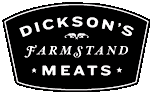 "Our mission here is to get as much out of the animal as possible," said Jake Dickson, the owner of Dickson's Farmstand in the Chelsea Market, where Ms. Wiseman shops for her dogs. "Both in terms of profitability, but also philosophically — doing honor and justice to that animal."

Every Wednesday, 6,000 pounds of meat arrives at Dickson's from farms in the Hudson Valley and in Schoharie, near Albany — four steers, and up to nine pigs and seven goats or lambs, are all broken down by hand. Fresh meat lands in the display case and is also turned into charcuterie, while trimmings are churned into ground meat and sausage.

"The dog food is kind of taking it to the next step," said Mr. Dickson, 31, who demonstrated the "nose to tail" sustainability aspect of Farm to Bowl, his new dog food operation, by spreading out an array of animal parts on brown butcher's paper. The paper quickly turned pink as it soaked up blood from hearts, tongues and livers. But the meat mélange also included a generous slab of New York strip, which, if it had not been faintly oxidized, Mr. Dickson said, would have sold for up to $34 a pound.

Like other butchers tapping into this niche dog food market, Mr. Dickson said that while offal and other cuts were perfectly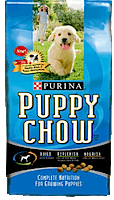 safe for humans, he used to throw them away, largely out of cosmetic concerns or because of a surplus. Nowadays, he grinds them up, roasts them and combines them with seasonal produce.

The product is sold fresh in one-and-a-half-pound, $10 packages as dog food. He sells about 100 a week, and according to the company's Web site, the packages last seven days refrigerated and longer frozen. At one meal per pouch for a medium-size dog, Farm to Bowl is expensive — after all, a 34-pound package of Purina Puppy Chow can be had for $23. But that has not stopped Ms. Wiseman, who described Mookie and Melanie as "your typical spoiled Manhattan dogs."

"They're first — I don't care," Ms. Wiseman said, noting that she initially looked into noncommercial dog food after Melanie developed thyroid cancer. Now, Ms. Wiseman visits Dickson's every other Sunday to stock up. Her dogs' energy levels are up, she said, and the pets are healthy — and satiated. Indeed, Mr. Dickson and his business partner, Stacy Alldredge, a canine nutritionist, say their products are a vital investment in a dog's health.

"If you think about logic, you have a real, live dog here," said Ms. Alldredge, who also runs Who's Walking Who, a dog nutrition and obedience-training service. "Of course, real food is going to be better for them. It's like saying, 'I'm an athlete,
but I'm going to live on Power Bars.' "

Jessica Applestone, an owner of Fleisher's Grass-Fed and Organic Meats in Kingston, N.Y., which has also gotten into the dog food business, has a similar opinion of processed dog food.

"If you're not feeding your dog human-quality food it's a terrifying thing," said Ms. Applestone, 44, who began producing dog food at Fleisher's shortly after the company opened seven years ago. "It's very true that there's much more of a movement, and we're very happy to see it. People see that pushing a better diet for their dogs results in less vet visits."

The company produces $4 packages with four ready-to-eat two-ounce patties made of organic chicken and beef hearts, liver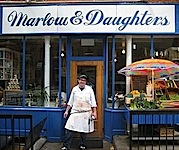 and tongue, and sprinkled with beef fat. Fleisher's sells about 100 pounds of patties a week.

In Williamsburg, Brooklyn, T. J. Burnham, the head butcher at Marlow & Daughters, has for four months sold $6 pints of his house dog-food blend: raw lean beef and beef liver, combined with cooked chicken, carrots, celery and barley, splashed with cider vinegar to aid in digestion. The shop stocks 20 to 50 pounds at a time.

Still, whether it is raw, pan seared, flambéed or otherwise elaborately prepared, not all dog owners are believers in foodie-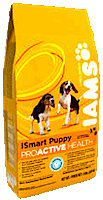 grade puppy chow. On a recent weekday afternoon, Linda Mascia and Janet Gritzka, both 64 and from Huntington in Suffolk County, admired the meats in the display case at Dickson's Farmstand in the Chelsea Market. The women inquired about the beef labeled picanha (a premium Brazilian-style cut) and laughed when asked if they would consider Farm to Bowl dog food for their dogs.
"No," Ms. Mascia insisted, breaking into a grin. "I just stick with what the vet tells me — Iams!"
For her part, Ms. Gritzka seemed to go into sticker shock when told the price. She stole one last glance at Dickson's ruby red marbled meats and said, "That's one very spoiled puppy."


Manhattan clinic covered up bulldog's death by suffocation
Vet in 'bad heart' X-ray coverup: suit
By DAREH GREGORIAN and HELEN FREUND
July 23, 2011
An upper Manhattan animal clinic let a woman's dog bark itself to death -- and then tried to cover up the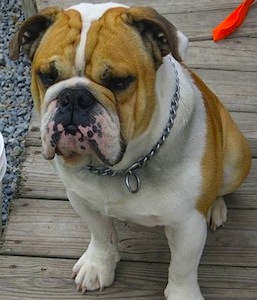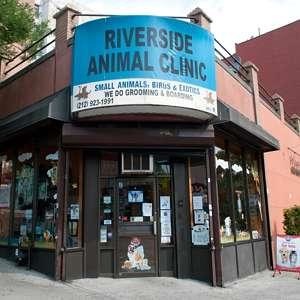 bizarre tragedy, court papers charge.

A doctor at Riverside Animal Clinic, located at 801 W 187th St., had told Marie Moore that X-rays showed her beloved bulldog, Cowboy, had died from congestive heart failure, but an autopsy found that his heart was fine and that he'd actually suffocated as a result of over-barking, Moore said in papers filed in Manhattan Supreme Court.

"Defendants ignored obvious signs of Cowboy's distress, allowing Cowboy to continue barking for days without proper care or intervention, until his severely swollen throat suffocated him and caused his death," Moore said in her suit, which charges the clinic and kennel with veterinary malpractice.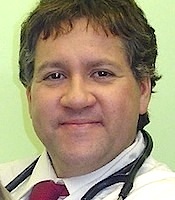 "Moreover, the X-rays Dr. [Javier] Ramos (left) claims to have relied upon to substantiate his claim that Cowboy died from heart failure actually show that Cowboy's heart was normal."

Ramos and the clinic declined comment.

The suit says Moore's nightmare began on March 9, when she took Cowboy, an English bulldog "who was in good health," for boarding at Riverside. She told staffers the pooch had never been in a kennel for an extended period of time and "was assured that Cowboy would be well treated."

Moore called to check on Cowboy on the 13th and "was told that everything was fine," the suit says. "One day later, Cowboy was dead."

The clinic didn't even have the decency to call Moore, the suit charges, claiming staffers sent an e-mail to Moore's mom, who was boarding her own dog there at the time, and asked her to give them a call. The mom, Megan Strong, called Riverside and was told Cowboy had died, the suit says. Moore then called the clinic and was told by Ramos that Cowboy developed breathing problems that morning and an X-ray of his chest "showed an enlarged heart."
Based on the X-ray, Ramos "concluded Cowboy was having congestive heart failure and he could do nothing to save Cowboy."
An autopsy showed Cowboy's heart was fine, but his throat was swollen and his stomach was full of air, a sign of respiratory distress, the suit says.
A "correct diagnosis of severe laryngeal edema and airway obstruction, followed by proper emergency procedures, would have saved Cowboy's life," the suit says.

Moore's father-in-law, Carlos Moore, called the death "very shocking, just awful." As for Cowboy, "Everybody loved him," Moore said. "He was a wonderful dog."

Can a dog bark itself to death?
Mostly no, but English bulldogs like Cowboy can, said Dr. Ann Hohenhaus of the Animal Medical Center. They have three issues that can lead to suffocation if their throats get swollen:

• Respiratory problems from their squashed faces

• Small windpipes

• Laryngeal saccules that, unlike other dogs, stick out into their airways


ASPCA Launches Campaign Hoping To Discourage Puppy Mill Purchases
NEW YORK
July 22, 2011
The American Society for the Prevention of Cruelty to Animals announced a new campaign aimed to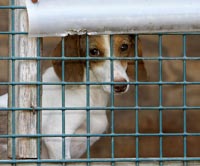 stop people from purchasing pets from so-called puppy mills.

The ASPCA, in a news release, charges that operators of puppy mills run their facilities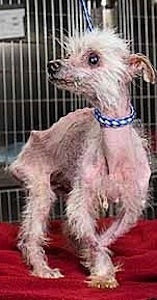 in often unsanitary, overcrowded and cruel conditions, "where profit is given priority over the well-being of the dogs."

Cori Menkin of the ASPCA spoke with 1010 WINS on Friday and said that the organization is hoping to "impact the industry" by asking consumers to not shop at any pet stores that sell puppies.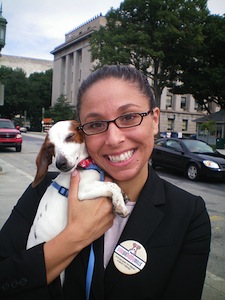 This campaign isn't just about where to get a puppy. It's about all of the pet-owning public and what they can do to help.
So it's about not buying any of your pet supplies at pet stores that sell puppies," Menkin (left) said.
The advocacy organization also commissioned a poll that found 80 percent of people would not purchase a puppy if they knew it came from a puppy mill.
"Our poll results indicated that nobody's making the connection between pet stores and puppy mills. And if that continues the demand for those puppies is going to continue," Menkin said.
"The more we can hit at the demand and decrease the demand for their 'product,' the more impact we can have on the market. If people stop buying the puppies, the puppy mills will stop churning them out," said Menkin.

Paw Pal program unites city middle-schoolers with needy pets at upstate shelter
BY AMY SACKS
Saturday, July 16th 2011
Sending personal letters and toys to shelter dogs was an awesome experience for some socially conscious local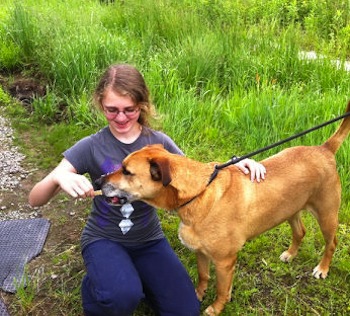 tweens, but getting to meet their four-legged pen pals for real was magical.

"These dogs had been through a lot," said Lucy (left), a 12-year-old animal welfare advocate, who was recently treated to hugs and licks at her first face-to-snout meeting with her paw pal, named Spike, at Glen Wild Animal Rescue, a sanctuary in upstate New York.

"I felt blessed that I could physically meet him, give him lots of treats, play with him and let him know that another person besides the staff at Glen Wild cared about him and wanted him to be happy," Lucy said.

The 9-year-old Golden mutt landed at the sanctuary after being pulled from the NYC Animal Care & Control shelter.
Spike's owner had died, and the orphaned dog was slated to be euthanized.
Lucy is among a group of New York City middle-schoolers who participate in the Paw Pal program through the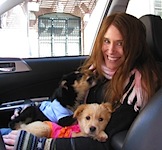 nonprofit group Unleashed. The after-school leadership program for girls empowers them to become social change agents, using animal rescue as their leadership laboratory, said Stacey Radin, Unleashed's founder. "They are encouraged to look at social problems in the world and think about a solution," said Radin, a psychologist and leadership consultant.

Each girl, who attends either Manhattan's Nightingdale-Bamford School or the NYC LAB School, selected a dog from a photo and a one sentence bio. Then, they wrote empathetic letters to their respective paw pals, and sent treats and toys that were infused with their scent. The letters were read to the dogs by the rescue group's staff.

Glen Wild founder Liz Keller said the Paw Pal program clearly helps the dogs heal from their misfortune. "To have the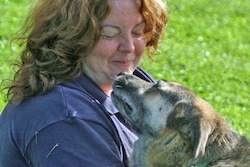 young girls come up and bring toys and care packages really helps create a more positive energy," she said.

At any given time, about 40 dogs and 15 cats reside at the 20-acre sanctuary, whose operation relies strictly on donations and a small army of volunteers. Two goats also call the oasis home. Most of the residents are pit-bull mixes and "bully breeds" that Keller pulls from the euthanasia list at the AC&C shelters, where she formerly worked as the Manhattan shelter manager. Keller assesses the dogs and provides behavioral training so they can become adoptable as pets.
Donations can be sent to Glen Wild Rescue, P.O. Box 75, South Kortright, N.Y. 13842, or through the group's Web site, www.glenwildanimalrescue.org.
Unleashed also relies on donation. For info, go to www.unleashed.org.
A fund-raiser to benefit three local animal rescue groups will be held Tuesday, July 19) at Copia in Manhattan from 6:30 p.m. to 9:30 p.m. The event, organized by Weil Gotshal & Manges LLP as part of the "Weil Pays it Forward" effort, will raise funds for Bully Breed Rescue, Four Paws Sake NYC and Rescuzilla.

Organizers also will collect toys, blankets and towels for NYC Animal Care and Control. Tickets are $35 in advance and $40 at the door, and cover two drinks and food. Copia is located at 307 E. 53rd St. For more information, call (212) 310-8962 or check the "Paws for a Cause Happy Hour" on Facebook.


Some Pet Owners Judge Jeter Name Best in Show
By JORGE CASTILLO
July 6, 2011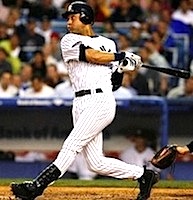 In his 17 seasons in the Bronx, Derek Jeter cemented his legacy as one of the great Yankees. He is the team's captain. He has five World Series rings. He entered Tuesday's game six hits from becoming the first Yankee to join baseball's 3,000-hit club.

Off the field, he has had a pretty good career, too, becoming the fae of one of the most popular franchises in American sports, and dating many beautiful women.

His success has allowed him to take his place among names like Ruth, Mantle and DiMaggio. It has also, it turns out, earned him a prominent place among another set of names — like Princess and Rocky, Lucky and Buddy and Coco.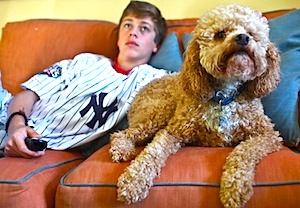 New York City, you see, is home to 33 dogs actively registered under the name Jeter. Across the Hudson, at the Valley Animal Hospital in Clifton, N.J., there are seven clients who go by the name Jeter, and on a single mail route in nearby Montclair, there are at least two Jeters — both reported to be friendly. In Jersey City, a Labrador is named Jeter; in Stamford, Conn., the city's lone Jeter is a beagle.

Jack Beibel (left), 16, of Montclair said he named his dog Jeter because the shortstop was his favorite player. His cockapoo has taken to it. "If we yell, 'Yankees,' he starts barking,' " Beibel said. "And if we yell, 'Red Sox,' he kneels down."

Jeter, by this canine measure, is more popular than his teammates, according to statistics provided by the New York City Department of Health. There is, for instance, one licensed dog named A-Rod. There are eight licensed dogs named Tex in the city, although it is far from clear whether they are all named in honor of Mark Teixeira.

The phenomenon, though, has crossed into enemy territory, and has been realized in Jeter's hometown. There are, for instance, three dogs registered as Jeter in Worcester, Mass., and another in Cambridge, a mere bone's throw from Fenway Park.
In Kalamazoo, Mich., where Jeter grew up, there are four dogs named for the hometown hero. Oh, and two cats, too.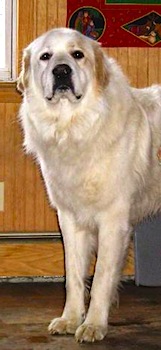 But there has been, along with the harmless good fun, at least one truly solemn story involving a dog named Jeter (right). In Dayton, Ohio, a Great Pyrenees named after the shortstop died in a fire in June 2009 after alerting his owner about a fire in the basement of their home.

The owner, Glenda Moss, credited Jeter with saving her and her son's lives. "We named him Jeter because we always loved Derek Jeter and we respect him," said Moss, who has no ties to the New York area and is not a Yankees fan. "We believe that he has morals and that he really cares about the games. That's what we look for in baseball players. Do they respect the game or is it just a business for them?"

Moss rescued Jeter through the National Great Pyrenees Rescue and had him for three years before he died. The organization donated another dog to the family four months after the fire. Moss named her Maddux after the former major league pitcher Greg Maddux.

"He had the greatest social life," Moss said of Jeter, her dog. "Everybody loved him, and he loved everyone."


Jon Levine and his family, also of Montclair, have a Cavalier King Charles spaniel named Jeter with a couple connections to the almost certain Hall of Famer.
The Levines' Jeter was born on June 25, 2009 — one day before Derek Jeter's birthday — and was taken home to his new family on Sept. 11, 2009, the night Jeter passed Lou Gehrig on the Yankees' career hits list.
"The easy answer is I'm a die-hard Yankees fan," Levine said when asked about why he named his dog Jeter. "I was a big fan of Thurman Munson, and in my adult life, Jeter has played that role. He's the epitome of class and character."

The Jeter dog count is, by definition, fluid and perhaps imperfect (one cannot, for instance, say with certainty they are all named after the shortstop). The various agencies that keep track of such things list only dogs that are currently registered; there could be a few unlicensed, unregistered Jeters. There could be still other Jeters who have died since the Jeter who was the 1996 American League Rookie of the Year broke into the majors at age 21.

In New York, Jeter does not come close to cracking the city's 10 most popular dog names. That list consists of traditional dog names like Max, which 942 dogs answer to in the five boroughs. The only top name that could possibly be associated with an athlete is Rocky, which is the third-most popular name in the city, with 644 dogs licensed.
Photos top left and bottom left:
Fred R. Conrad/The New York Times


Tracing Unscooped Dog Waste Back to the Culprit
By KATIE ZEZIMA
July 2, 2011
Sherlock Holmes had the case of the dog that didn't bark, but it has taken two dozen apartment complexes and a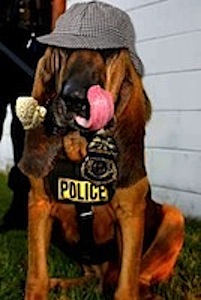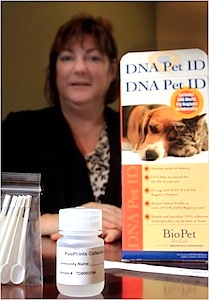 testing company in Tennessee to bring the art of canine detection into the "CSI" age. And the evidence is right underfoot.

Canine DNA is now being used to identify the culprits who fail to clean up after their pets, an offense that Deborah Violette (left), for one, is committed to eradicating at the apartment complex she manages. Everyone who owns a dog in her complex, Timberwood Commons in Lebanon, N.H., must submit a sample of its DNA, taken by rubbing a cotton swab around inside the animal's mouth.

The swab is sent to BioPet Vet Lab, a Knoxville, Tenn., company that enters it into a worldwide database. If Ms. Violette finds an unscooped pile, she can take a sample, mail it to Knoxville and use a DNA match to identify the offending owner.

Called PooPrints, the system costs $29.99 for the swabbing kit, $10 for a vial to hold the samples and $50 to analyze them, which usually takes a week or two. The company says that about two dozen apartment complexes around the country have signed up for the service. In 2008, the Israeli city of Petah Tikva created a dog DNA database for the same purpose.

"It's kind of like the F.B.I., but on a much smaller scale," said Eric Mayer, director of franchise development for BioPet Vet Lab, which makes the kits.

Ms. Violette said that at her complex, which opened in December and has a designated building for pet owners, unwanted surprises have sometimes been found on lawns. "We had a little bit of a problem," Ms. Violette said. "Enough that I wanted to try to nip it in the bud."

Dog owners were notified about the testing last week, and most are now taking their pets in to provide DNA samples. But not everyone. "I've had some people say it's completely over the top and ridiculous," Ms. Violette said. "I'm sure I'll have a few people who won't come in, and I'm sure those are the people we'll have to chase and those are the people who are doing it."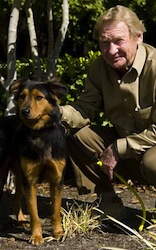 Tom Boyd, the founder and chief executive of BioPet Vet Lab, said the company made the kits in response to the large of numbers of the dogs in the United States and to health concerns connected to dog feces. According to the American Society for the Prevention of Cruelty to Animals, there are about 75 million dogs in the United States.

"If you took 75 million Americans and said they no longer have a commode, can you imagine what would happen in a week?" Mr. Boyd asked.

Not everyone is on board with the idea, though.

Karen Harvey of Forest Property Management in McCall, Idaho, said her company was not prepared to collect canine samples along with the rent checks. "If you allow pets, that sort of comes with it," Ms. Harvey said. "I guess I would never take the issue of dog poop that far."